mm-char.htm; updated: 01 january 2007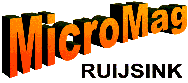 Chargers
LITHIUM POLYMER CHARGER
Dedicated charger for Lithium Polymer cells.
All Lithium cells need special chargers.
Their characteristics are the same but the voltage levels depend on the type of Li cell.
Lithium Polymer cells need to be charged with a current of 0.5 C to a maximum of about 1C until the voltage reaches 4.2 Volts (tolerance less than ± 1%). The voltage is then stabilised at this value until the charge current drops to 0.05 - 0.1C. This is the moment of 100% charge and the charger shall stop.
The charger for the is available in 5 versions for a single cell (1S) and 2 for two cells (2S).
For sake of security there are no switches or adjustments. The voltage accuracy is better than 0.75%.
The charger has a three colour LED for charge status control,
red for charging, green for ready and orange for fault.

The charger is 19 x 52 x 3 mm and can be used from a DC voltage source.
The single cell version handles 5.6 to 13.8 volts at the input
The two cell versions run from 9.6 to 13.8 volts.

The charger comes with bare input leads without connector, use your own favourite.
The output leads are either the Ruijsink Sub-Micro connectors
or "red" BEC JST connectors.
Please state the right type of charger when you order.
Ordercode's for the Lithium Polymer chargers:
| | | | | |
| --- | --- | --- | --- | --- |
| Connector: | | Ruijsink Sub-Micro | Bare wires | Price in Euro |
| Single cell LiPoly | 20 mA | LPC020-1S-RSM | | 21,- |
| Single cell LiPoly | 60 mA | LPC060-1S-RSM | | 21,- |
| Single cell LiPoly | 90 mA | LPC090-1S-RSM | | 21,- |
| Single cell LiPoly | 140 mA | LPC140-1S-RSM | | 21,- |
| Single cell LiPoly | 220 mA | LPC220-1S-RSM | | 21,- |
| Two cell LiPoly | 140 mA | | LPC140-2S-Bare | 19,- |
| Two cell LiPoly | 220 mA | | LPC220-2S-Bare | 19,- |
Duo Micro,
Not available anymore
Credit card size deltapeak duo charger for your smallest cells of 50 to 120 mAh


Copyright © 1999 Ruijsink Dynamic Engineering. All trademarks shown are trademarks of their respective owners. All rights reserved.
http://www.ruijsink.nl, designed by Rick Ruijsink