mm-links.htm; updated: 01 January 2007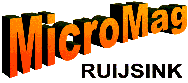 MicroMag: Links
<![if !vml]>

<![endif]>Bob Selman Designs has one of the longest running Micro businesses in the USA.
Bob did the programming of the microprocessor in MicroMag, with
the first auto throttle detect and the smoothest actuator control.
Willem Bravenboer Your Belgian specialist on in/outdoor models with high fun/buck ratio
<![if !vml]>

<![endif]> Micro Midget Brushless For the finest really small brushless motors
 <![if !vml]>

<![endif]> JMP-solutions Is one of the first alternatives to MicroMag
<![if !vml]>

<![endif]> MicroInvent your supplier from Slovenia for Micro, radio, actuators, esc's, motors and models
<![if !vml]>

<![endif]> small receivers, actuators, motors and super BL controllers
<![if !vml]>

<![endif]>Atomic Workshop brings motors and the famous high rate LiPo's.

Johan Bjurling brings the small stuff to Sweden

The WES Technik Home Page. Light weight stuff for the real R/C Indoor maniac!

Schulze You will find the best chargers here and a lot more
The Learjet page A really 'kool' page with information on indoor (!) electric ducted fan flying.
Pixel helicopter probably the world's smallest RC heli
Rob Bulk Computerfreeswerk Precision CNC routing of wooden and composite parts, also fine kits!
Copyright © 1999 Ruijsink Dynamic Engineering. All trademarks shown are trademarks of their respective owners. All rights reserved.
http://www.ruijsink.nl, designed by Rick Ruijsink