mm-bats.htm; updated: 01 January 2007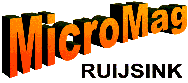 Batteries for Microflight
Cap.

Voltage

Thick

Dia/Width

Length

Weight

Max cont.

Price

mAh

Volt

mm

mm

mm

gram

current, mA

Euro

Rechargeable:

Lithium Polymer, bare cell

145

3.7

4.5

21

28

3.5

1000

6.-

Single Lithium Poly cell
with Sub-Micro Connector

145

3.7

4.5

21

28

3.8

1000

8.-

Lithium Metal

800

3.0

Ø

10

15

17

1500

Lithium Metal

450

3.0

Ø

10

15

11

800

Sanyo N50AAA

50

1.2

Ø

10

15

3.6

1000

Sanyo N120TA

50

1.2

Ø

8

48

6.0

2000

GP 80 NiMH

80

1.2

Ø

8.4

15.3

2.2

250

GP 160 NiMH

160

1.2

Ø

10

15

3.5

500

Non rechargeable:

Lithium 1/3 N

80

3.0

Ø

10

10

3.3

25

Alkaline cell

30

1.5

Ø

10

3

0.7

20
See battery applications and confectioning for more info on the Lithium battery.
We only stock the Lithium Polymer cells.
The other cells can be bought in your local hobby shop.
A Stock of the 80 mAh and 160 mAh GP cells will be considered when there is enough demand.
The alkaline cell can be recuperated when you open a standard 12 Volt camera battery, the type that is about 10 mm dia and 20 mm long. Inside you will find 8 pieces.
Copyright © 1999 Ruijsink Dynamic Engineering. All trademarks shown are trademarks of their respective owners. All rights reserved.
http://www.ruijsink.nl, designed by Rick Ruijsink