mm-motor.htm; updated: 01 January 2007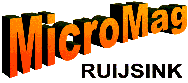 Motors
The Kenway KR-1 with 4.2:1 reduction has proven to be a good allround performer with the system. This powerplant was developed for indoor freeflight and holds the Mabuchi FFN20-PA motor (Ř 12 x 10 x 15 mm) with few turns for low voltages. Three cells and a 120 to 150 mm diameter prop are recommended, on 4 cells you have good power and you use a 100 to 125 mm prop. We fly models of 36 cm up to 80 cm span on 3 cells and the MicroLite is very (fun)aerobatic on 4 cells.
The Kenway KR-1 as supplied, specify one of the three props..
The KP Aeromodels (formerly Knight&Pridham) KP-00 (pronounced often as k-poo or phonetically keipu) is a lighter motor and wound for lower voltages, use 2 to 3 cells. The KP reduction gear is 2.75:1 and this gives good power on 2 or 3 cells with the supplied adjustable propeller of 85 mm diameter. This powerplant was again designed for indoor FF and works fine on Sanyo 50 mAh cells.
As the motor draws significantly more current than the KR-1 the use with the new GP NiMH cells is limited.
For R/C (and probably some FF as well) it would be more practical to use a higher gear ratio. I have very good results with between 4:1 and 7:1, then the motor drives a 125 mm prop on 2 respectively 3 cells with good power and reasonable efficiency.
The KP-00 motor with a home made reduction (on 1 mm ball bearings) and original with prop.
The motor is to be fitted with interference suppression of 3 x 47 nF.
The KP Aero Models KP-00 is not available through us but the data are included because it is an interesting motor. Contact KP Aero Models at phone +44-1705-412172 or fax +44-1705-412178.
Now some very fine Coreless motors are available at different suppliers.
The small brushless Mighty Midget motors from India are very fine and deliver lots of power and efficiency.
You can find many interesting different suppliers in the links page.
Copyright © 1999 Ruijsink Dynamic Engineering. All trademarks shown are trademarks of their respective owners. All rights reserved.
http://www.ruijsink.nl, designed by Rick Ruijsink