mm-phot.htm; updated: 17 June 2002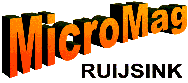 MicroMag: Photo album
Please mail your photo and a description to be incorporated here.


The DeLite 14.1 gram


The Micro actuators on the DeLite


Frank Bremer his model, controlled with only the motors

Here another view of Frank his model


Paul van der Vleuten Belgium Build this nice scale model


A Phantasy model inspired on the IMA Flutterby for MicroMag


Willem Bravenboer his own Flutterby in a big 80 cm version,
yes: a waterstart at just 4 Sanyo 50 mAh cells


The Tri-X, 21 gram and 18 cm span by Rick Ruijsink
Flies now like a dream on the new 3.5 gram LithiumPolymer cell



Here a close-up of the motor. Plans for the Tri-X are downloadable here.
The plans are very schematic but good enough for an good modeller.
Use GIF files side.gif and top.gif or DXF files side.dxf and top.dxf.
Click to open in your browser and right click to download.


Profile Scale Cessna BirdDog of Mike Watters


The "engine room" of the BirdDog
Download a plan for the Cessna BirdDog in AutoCAD Vs14 format here


An enlarged EZB by Mike Watters flies on CO2


The ASTRO FLIGHT Micro Whatt Meter is a very good investment.
You can analyse all your electric motors and batteries from the MicroMag size upto Speed 400.
Use the standard Whatt Meter for higher powers.
The standard Whatt and Micro-Whatt Meter are self powered, and work down to about 4 Volts.
To allow the use at lower voltages I have added 5 GP 80 mAh cells to power the meter.
Here is some info on my changes, more details can be found on the website of Gordon Johnson.
Copyright © 1999 Ruijsink Dynamic Engineering. All trademarks shown are trademarks of their respective owners. All rights reserved.
http://www.ruijsink.nl, designed by Rick Ruijsink